Avec la spirale épidémie de coronavirus Dans les villes et les États du pays, les autorités sanitaires américaines exhortent à nouveau les gens à porter un masque à l'intérieur en public, quel que soit leur statut vaccinal, afin d'aider à arrêter sa propagation.
En effet, omicron est beaucoup plus transmissible que les variantes précédentes du coronavirus et entraîne des poussées de COVID-19 dans une grande partie du pays, représentant plus de 73 % des nouvelles infections, selon les Centers for Disease Control and Prevention des États-Unis.
Certains experts de la santé disent également qu'il est temps de reconsidérer vos options de masque facial. Le Dr Shira Abeles, spécialiste des maladies infectieuses à l'UC San Diego Health, affirme qu'un masque en tissu de base ne suffira plus.
"Vous avez un emplacement à l'intérieur, pas une bonne circulation, peut-être que vous ne savez pas si les gens sont vaccinés ou non et que vous avez juste des masques en tissu et que vous êtes dans une sorte de pièce étouffante, ouais, ça va échouer plus tôt qu'un très étroitement -masque filtrant ajusté, " dit Abélès.
Alors, quel type de masque convient le mieux à la nouvelle variante omicron COVID-19 ?
En raison de la variante omicron hautement transmissible, certains experts conseillent au public de porter un masque à haute filtration bien ajusté comme le N95 – généralement utilisé par les travailleurs de la santé dans les environnements à haut risque – au milieu des craintes que le tissu et les masques chirurgicaux couramment utilisés ne pourraient pas offrir une protection suffisante.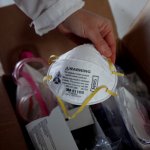 Quoi qu'il en soit, les responsables de la santé affirment que les meilleurs masques sont ceux qui couvrent votre nez et votre bouche et sont bien ajustés pour qu'il n'y ait pas d'espace sur les côtés de votre visage.
Le CDC dit également de choisir des masques avec deux couches ou plus et un fil de nez pour empêcher l'air de s'échapper par le haut. Il suggère de tenir votre masque pour vérifier s'il bloque la lumière, ce qui signifie que le tissu filtrera probablement plus de particules.
Si vous souhaitez une protection supplémentaire, les experts suggèrent également de porter deux masques ou de les associer à un ajusteur de masque pour vous assurer qu'ils ne laissent aucun espace.
Quelle est la différence entre un masque N95 et KN95 ?
Un masque N95 est un respirateur à masque filtrant (FFR). Le Federal Code of Regulations définit un FFR comme étant un respirateur à particules à pression négative avec un filtre faisant partie intégrante du masque ou avec l'ensemble du masque facial composé du matériau filtrant. Un N95 signifie que le masque a été évalué pour filtrer au moins 95% des particules en suspension dans l'air qu'il rencontre. Les masques ont également été fabriqués pour former un joint sur le visage du porteur.
La différence entre un masque N95 et un masque KN95 réside dans le lieu où le masque est certifié. Les masques ont des sources et des noms d'approbation différents en fonction des pays d'origine. Ceux produits aux États-Unis et certifiés par le National Institute for Occupational Safety and Health sont appelés N95, R95 ou P95. En Chine, ils sont référencés KN95 et en Europe ils sont appelés FFP2.
Le CDC prévient cependant que 60% des respirateurs KN95 aux États-Unis sont des contrefaçons et ne répondent pas aux exigences du NIOSH.
Consultez cette liste pour voir quels masques N95 sont approuvés par le NIOSH.